Advisor Finds Hot Market: Other People's Clients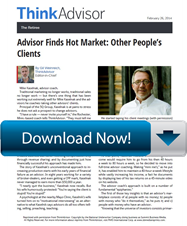 View the article from Think Advisor

In this article you will find:
You'll never have to sell again...clients will ask you to handle thier money
How to market with no risk or upfront marketing costs
How a psychologist at the Mayo Clinic revolutionized the business
How to get access to a 34-minute, step-by-step, video that walks you through it.
Plus, much more…
It's free! Just click to view the article instantly and enjoy!